Fox Business Briefs: Facebook's messaging system WhatsApp reveals vulnerability to hackers after an Israeli firm was allegedly able to install spyware onto phones by simply placing a call; Supreme Court ruling opens the door for consumers to sue Apple for forcing them to buy apps exclusive to the tech giant.
WhatsApp will no longer be supported on millions of older iPhones and Android devices starting Saturday, the Facebook-owned messaging app said in a blog post.
WhatsApp will be supported — or receive updates — on Android devices running operating system 4.0.3 or newer systems, iPhones running iOS 9 or newer and select phones running KaiOS 2.5.1 or newer, including JioPhone and JioPhone 2, the app said in its FAQ post.
"Because we no longer actively develop for these operating systems, some features might stop functioning at any time," the post states.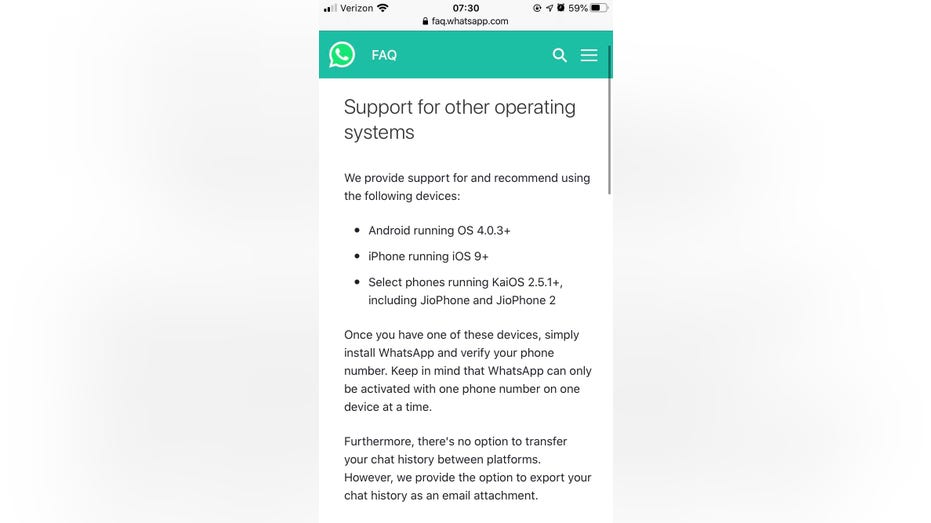 WhatsApp FAQ screenshot
FACEBOOK SUES ISRAELI COMPANY OVER WHATSAPP SPYWARE
Facebook did not respond to FOX Business by the time of publication.
When an app is not "supported" by its engineers, it is no longer updated with the bug and security fixes needed to ensure that all the app's features operate smoothly and hackers can't breach accounts. Cybersecurity experts suggest regularly updating apps and devices to ensure accounts are not hacked.
The decision is nothing new for the messaging app, which has stopped supporting older operating systems that don't offer the capabilities the app needs to work at its most functional level every year since it was created in 2009.
GET FOX BUSINESS ON THE GO BY CLICKING HERE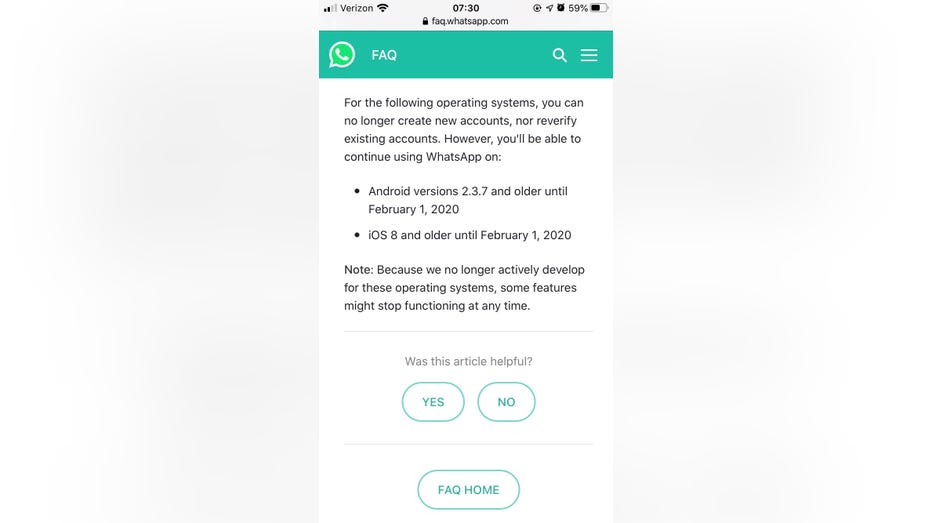 WhatsApp FAQ screenshot (WhatsApp)
WHATSAPP CO-FOUNDER CALLS HIMSELF 'SELLOUT' FOR $22B FACEBOOK DEAL
If the app is currently active on Android versions 2.3.7 and older and iPhone versions 8 and older, users will be able to operate the app like normal, but they will no longer be able to create new WhatsApp accounts nor verify existing accounts. Additional operating issues may come at a later date.
Apple told The Daily Mail that only 7 percent of iPhone owners use iOS 12 or older, but did not specify how many people that percentage represents. If the world has an estimated 100 million iPhone users, however, that means about 7 million people use iPhone versions older than iOS 12.
There will be no option for users to transfer conversations onto other apps, but users will be able to download and email conversations so they do not entirely disappear.
The decision by WhatsApp comes after two U.N. experts on Jan. 23 called for an investigation by the U.S. into information they received suggesting Amazon founder Jeff Bezos opened a malware-containing video message on WhatsApp that appeared to come from Saudi Crown Prince Mohammad Bin Salman's personal account in 2018.