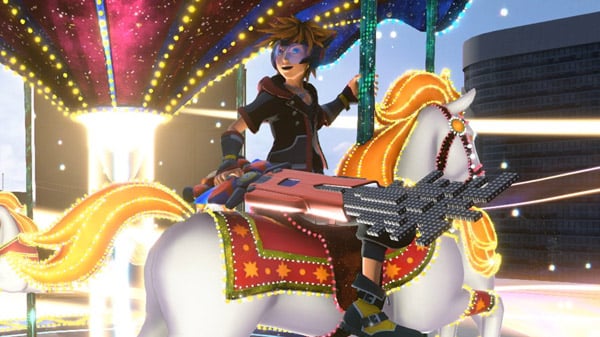 Two new Kingdom Hearts teams separate from the Kingdom Hearts III and Kingdom Hearts Union χ teams have been established within Square Enix, according to a "13 Questions of Darkness" Q&A posted on the Japanese Kingdom Hearts Twitter account today. And one of those teams will release a title "surprisingly soon."
The Q&A reads, "While a traditional Kingdom Hearts will take some time, the Kingdom Hearts Union χ team will first be making an unexpected announcement tomorrow. Furthermore, in addition to the Kingdom Hearts III and Kingdom Hearts Union χ teams, two new teams are currently at work, and one of their titles is coming surprisingly soon."
With the release of the latest update today, as well as the January 23 release of the downloadable content Kingdom Hearts III: Re Mind for PlayStation 4, the Q&A also touched on the potential of future updates and downloadable content.
"We don't have updates planned at this time, but if something comes up in the future, then we will deal with it," the Q&A said. "As for downloadable content, Re Mind is the first and last. We're already working on the next title."
Finally, where Kingdom Hearts games in the past were expanded through the release of a Final Mix version, Kingdom Hearts III expanded through updates and the upcoming downloadable content. Asked about a Final Mix version, the Q&A had the following to say:
"Currently, there are no concrete plans [for a Final Mix release]. If it appears on new platforms in the future, then it's a possibility, but I'm not thinking about whether or not that will become a 'Final Mix.'"
Kingdom Hearts III is available now for PlayStation 4 and Xbox One. The downloadable content "Re Mind" is due out for PlayStation 4 on January 23 and Xbox One on February 25.
Use the coupon code "GEMATSU" for 5% off.
comment policy
Comment Policy
Comments are welcome and encouraged on Gematsu. However, we ask that you follow a simple set of guidelines:
Read the full article before commenting.
Stay on topic.
No drive-by comments, including trolling, baiting, or shit-posting.
Know when not to comment. If you do not care about a topic, you do not need to comment.
No offensive comments. This includes abusive, threatening, pornographic, misleading, or libelous content / language, as well as general harassment and individual attacks.
No port-begging.
No console wars.
Use spoiler tags when posting spoiler or NSFW (non-nude-only) content. For example: Woe is Leomon. State the subject of the content outside of the spoiler tags.
Be respectful towards other commenters. You do not have to agree with each other, but debate politely. If you find that a commenter is not following this simple etiquette, do not carry on the conversation—simply report it.
Gematsu reserves the right to edit or delete any comments without notice. This comment policy is subject to change at any time.