Ferdinand Porsche founded the Porsche brand in 1931, at first designing cars for other companies. In 1948, Porsche and his son, Ferry, released their first sports car, the Porsche 356.
Edmunds describes Porsche as having "a virtually untarnished reputation" and says the brand's cars are "among the finest performance vehicles in the world." Porsche is known for its luxury sports cars, and the brand delivers performance and style. It's also a very popular brand among Hollywood celebrities. Here's a look at some famous Porsche owners and collectors.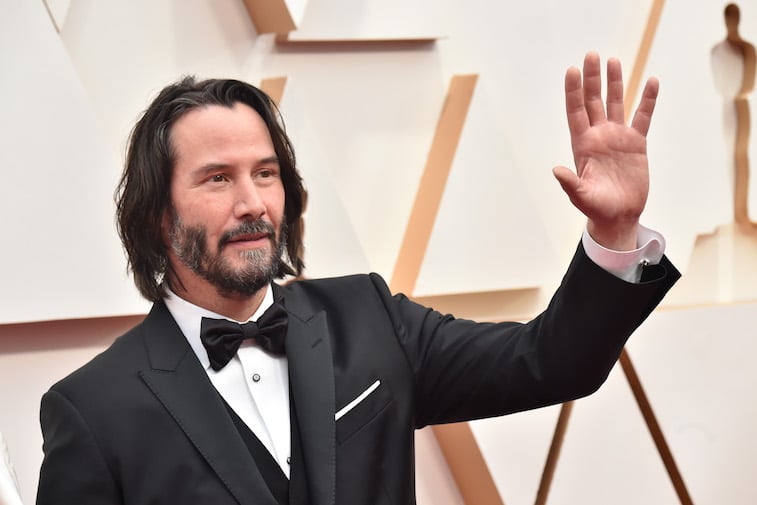 Keanu Reeves' Porsches
As a kid, actor Keanu Reeves got a toy Porsche from his grandmother, sparking his love of the brand. Reeves now owns a collection of cars and motorcycles, which includes a Porsche 911 and other Porsches.
He used to own a Porsche 911 Carrera 4S (Type 993), but the car was stolen while he was away from home filming. After that car was stolen, Porsche created a custom 911 Carrera 4S just for Reeves.
Reeves also told Top Gear that he used to want to be a race car driver. He said, "Oh my gosh, it's so much fun to drive. I love driving." He has done Porsche's Driving Experience and even won the 2009 Celebrity Race at the Toyota Grand Prix of Long Beach. Reeves' first car, though, was a 1969 Volvo 122 in British Racing Green.
Jerry Seinfeld's Porsches
Comedian Jerry Seinfeld loves cars so much he has his own car show, Comedians in Cars Getting Coffee, which is now on Netflix. His car collection has more than 100 cars in it, including a Porsche 959 and other Porsches. He's known to be a big Porsche fan and has one of the biggest Porsche collections in the world, at one point owning 46 of them.
Seinfeld has sold more than a dozen Porsches over the years and still owns more. The 2016 auction of 13 Porsches and two Volkswagens included a 1955 Porsche 550 Spyder, a 1959 Porsche 718 RSK, and a 1974 Porsche 911 Carrera 3.0. One sale caused him legal troubles since it turned out that a rare 1958 Porsche 356A 1500 GS/GT Carrera Speedster he owned and sold was a fake.
Other celebrities who own Porsches
Reeves and Seinfeld aren't the only celebrity Porsche owners. Some are huge fans of the brand and others got their Porsches as gifts. Jay Leno, the former Tonight Show host and current host of Jay Leno's Garage, is a big car fan with a huge collection.
His classic Porsches include a Porsche 959 from the 1980s, a Porsche 918 Spyder, and a Porsche 911.
The first car that actor Patrick Dempsey bought was a 1963 Porsche 356. He has owned several Porsches, including the 911 Turbo, 911 Targa, and the 911 GT3 RS. He has also raced for Porsche at Le Mans and served as a spokesperson for the company.
Singer and former coach on The Voice, Adam Levine drives a 1956 Porsche 356A, which he's had for ten years. He also helped promote the Porsche Mission E, the company's first fully electric Porsche.
Actor and former WWE wrestler Dwayne "The Rock" Johnson has a car collection that includes a Porsche Panamera Mansory.
This car had to be modified to fit his size. Miley Cyrus, who got her start on the Disney Channel, has gone on to be both a singer and an actress. She drives a 2013 Porsche Cayenne GTS.
She also has a Porsche Cayenne that she got as a hand-me-down gift from her mom in 2008 when she was 16.
While actress and singer Jennifer Lopez doesn't drive herself, according to People Magazine, her fiancé Alex Rodriguez got her a red 2019 Porsche 911 GT3 for her 50th birthday in 2019.