The battle of the next-gen heavyweights featuring Xbox Series X and PlayStation 5, looks set for later this year. So far, we have a vague idea about both the technologically advanced machines. Much of their power is drawn from the ultra-fast SSD; both have opted for instead of the traditional HDD. It will massively diminish the long loading screens and improve connectivity channels.
Both Microsoft and Sony are focusing on the computation abilities of the CPU and the GPU. While the CPU handles the system's internal computations, the GPU renders graphical elements and stimulates and redistributes the flow of data, thereby enhancing the overall functionality of the CPU. Both companies have opted for AMD's semiconductors on this aspect.
Xbox Series X vs PlayStation 5 specifications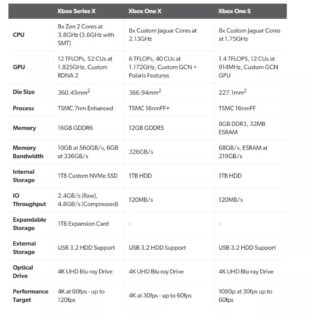 The Xbox Series X will have eight Zen 2 CPU cores at 3.8GHz. The GPU is a Custom RDNA 2 with 12 teraflops, and 52 compute units at 1.825GHz. Thus, making the console capable of supporting hardware-accelerated ray tracing, generating way more realistic visuals and 3D audio.
Another thrilling addition is 4K resolution at 60FPS, with the potential of a total 120FPS. It also boasts a 16GB GDDR6 RAM with 1TB internal storage of Custom NVMe SSD with an IO Throughput of 2.4GB per second. Also available is an official Xbox Series X 1TB Storage Expansion Card and a 4K UHD Blu-ray optical drive. Moreover, there is an additional option of further expanding the storage via external HDD.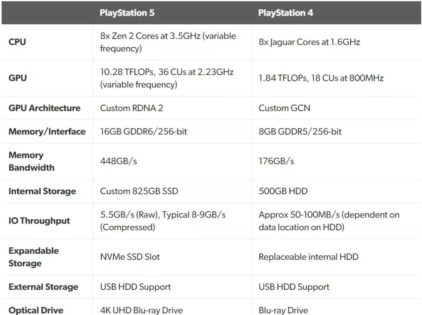 Sony's PlayStation 5 will have an eight-core Zen 2 CPU at 3.5GHz, and a Custom AMD RDNA 2 GPU featuring 36 compute units and 10.28 teraflops at 2.23GHz. The GPU will be able to support ray-tracing, simulating realistic visuals, and 3D audio. The RAM is a 16GB GDDR6 (256-bit) and has an 825GB internal storage of Custom SSD with an IO Throughput of 5.5GB per second. Additionally, PS5 will have expandable bonus storage of NVMe SSD Slot with an option for external HDD storage support. The optical drive will be of a 4K UHD Blu-ray variant.
Read more: Xbox Series X Reveals Games Available After Release.
The differences
There are some differences between the next-gen consoles regarding the CPU, GPU, and SSD. PlayStation 5 seems to be trailing only by a tiny margin. Its CPU is almost similar to the Series X's, but the GPU is somewhat lagging behind. The difference in CU units and speed further adds to the complexity of the comparison. While Series X has 52 CUs at 1.825GHz, PS5 has 36 CUs at 2.23GHz. Meanwhile, Sony's SSD can handle 5.5GB per second, which is more than double compared to Microsoft's 2.4GB per second. Both company's approaches feature distinct philosophies.
Sony's, as well as Microsoft's next-gen consoles, will bring massive modifications to graphics, performance, and audio compared to what previously seen in PS4/PS4 Pro and Xbox One/Xbox One X. Without looking at both consoles side-by-side, it's not possible to get an idea of which one has the upper hand. But right now, when it comes to rolling out specifications about next-gen consoles, it seems Microsoft is leading the charge against its competitor Sony.