Aoife Beary, one of seven survivors of the Berkeley Balcony collapse, has died at the age of 27. 
On 16th June 2015, Aoife was celebrating her 21st birthday with school friends, all of whom had decided to spend their summer working in California on J-1 visas. 
With the party in full swing, the balcony of their fourth floor apartment gave way, killing six Irish students, Eoghan Culligan, Niccolai Schuster, Lorcán Miller, Eimear Walsh, Olivia Burke and her Irish American cousin, Ashley Donohoe. 
Seven others, including Aoife, were seriously injured. The Blackrock woman sustained a brain injury, broken bones, organ lacerations and underwent open heart surgery.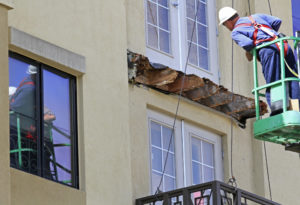 Inspectors in a cherry picker take photos and measurements of the lower balcony. Image: TNS/SIPA USA/PA Images
Many gruelling hours of rehabilitation followed and in 2016 Aoife bluntly told the California legislature that the accident had changed her life forever: 
"I miss my friends so much – I have known them since we started school together at four years of age," she said.
"We had grown up together, and now my birthday will always be their anniversary."
Her testimony moved Senator Jerry Hill to tears and was described as "instrumental" in the passage of a bill through a senate committee that mandated stricter reporting of possible construction defects: 
"I was in tears and most of the room was in tears. It was the most powerful, powerful testimony," Senator Hill told Newstalk. 
"She described the pain she suffered, the agony and disability she has, the surgeries she encountered, but most importantly the loss of her friends and the lives that were destroyed because of this. 
"Her life will never be the same."
Aoife passed away in Dublin's Beaumont Hospital on Saturday, having suffered a stroke on Wednesday. She is survived by her parents Mike and Angela and her siblings Tim and Anna.
Main image: Aoife Beary addresses the California legislature.