Wink, a company that makes a smart home hub that links smart home devices together, last week upset customers with the announcement of a new surprise subscription service that will be required to use the Wink product going forward.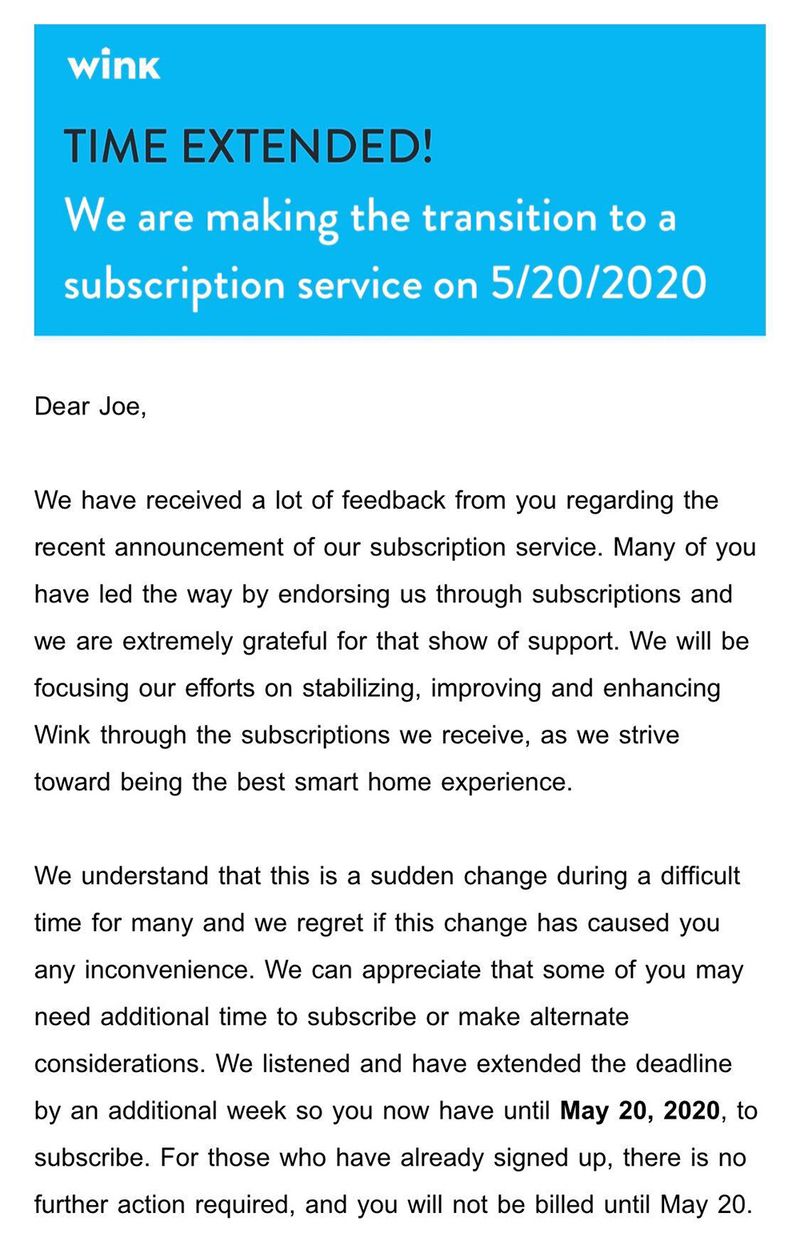 Wink, which was not a subscription service when customers purchased the product, at the time said that it would give customers a one-week grace period before charging a subscription fee. As of today, Wink announced that it has extended that grace period for another week, and customers won't be charged until May 20. The subscription fees were originally set to kick in on May 13.

Wink customers who do not start paying $4.99 per month on May 20 will not be able to continue using their Wink products. Those who choose not to pay the fee will not be able to access Wink devices from the app, with voice control, or the API, and automations will be disabled.
Current Wink customers have reacted negatively to the new subscription fees, with many complaints on Reddit from customers unhappy with the requirement to pay up or lose access to their smart home interface. From Wink:
Should you choose not to sign up for a subscription you will no longer be able to access your Wink devices from the app, with voice control or through the API, and your automations will be disabled on May 20th. Your device connections, settings and automations can be reactivated if you decide to subscribe at a later date.
Wink says that hardware sales are no longer able to cover the cost of ongoing cloud services, development, and customer support, and to support continued growth, a subscription fee needs to be implemented.
Top Stories
iPhone 12 Pro may contain a 120Hz ProMotion Display, a 3x rear camera zoom, and improved Face ID, according to unreliable leaker Max Weinbach, who shared his information with YouTube channel EverythingApplePro.
Weinbach suggests that iPhone 12 Pro, rumored to come in 6.1-inch and 6.7-inch sizes, will feature a high refresh-rate 120Hz ProMotion display, as currently seen on iPad Pro. The new…
In a bid to reduce its reliance on China as a base for operations, Apple could be planning to produce up to $40 billion worth of smartphones in India through contract manufacturers Wistron and Foxconn, reports The Indian Economic Times.
Several meetings between Apple's senior executives and top ranking government officials over the last few months have paved the way for the iPhone maker…
Ever since Apple discontinued the 15-inch MacBook Pro in favor of a new 16-inch model with slimmer bezels last year, the natural assumption has been that a 14-inch MacBook Pro will eventually replace the 13-inch model.
Apple ended up sticking with the same size display when it refreshed the 13-inch MacBook Pro with a Magic Keyboard and faster processor options earlier this month, but a…
Tuesday May 12, 2020 11:53 am PDT by Juli Clover
A week after releasing a new firmware update for the AirPods Pro, Apple has pushed the same firmware to the second-generation AirPods, updating them from the previous 2A364 firmware to the new 2D15 firmware.
Apple didn't make it clear what's new in the refreshed firmware at this time, and AirPods Pro owners had mixed reactions to the update, with some saying that it improved Active Noise…
A little later than expected, Apple has added the following 2013 and 2014 models of the MacBook Air and MacBook Pro to its vintage and obsolete products list: MacBook Air (11-inch, Mid 2013)
MacBook Air (13-inch, Mid 2013) MacBook Air (11-inch, Early 2014) MacBook Air (13-inch, Early 2014) MacBook Pro (13-inch, Mid 2014) Also today, Apple added the iPod touch (5th generation) to its…
Sales have appeared across Apple's lineup of AirPods Bluetooth headphones this week, including the AirPods With Charging Case, AirPods With Wireless Charging Case, and AirPods Pro. You'll find these sales at carriers this time around, including Verizon and AT&T.
Note: MacRumors is an affiliate partner with these vendors. When you click a link and make a purchase, we may receive a small…
Apple's rumored iPhone 12 lineup will start with 128GB of storage, according to Jon Prosser of the YouTube channel Front Page Tech. This would be twice as much base storage as the 64GB that Apple has offered for the last three years.
Prosser revealed this info in his latest video, claiming that 5.4-inch and 6.1-inch iPhone 12 models will be available with 128GB or 256GB of storage and that…
Monday May 11, 2020 12:04 am PDT by Eric Slivka
USB-C hubs that attach directly to Apple's notebooks have become quite commonplace in recent years, but Sanho Corporation's HYPER brand is today releasing an updated version of its HyperDrive Duo hub that includes a couple of new twists.
As with most USB-C hubs, the new HyperDrive DUO includes an array of expansion ports for your Mac, including an HDMI port, a pair of USB-C ports (one…
Monday May 11, 2020 11:36 am PDT by Juli Clover
Apple has hired multiple well-known software engineers with cloud computing expertise in recent months, according to a report from tech site Protocol.
The range of employees Apple has hired has created "a stir" in the "tight-knit cloud community," and is a sign that Apple is perhaps planning to build serious cloud infrastructure to compete with Amazon, Microsoft, and Google.
Employees…
Monday May 11, 2020 2:20 pm PDT by Juli Clover
For iPad Pro owners who have been searching for a case option compatible with the Magic Keyboard, Pad & Quill has debuted its Copertina Magic Cases, available for both the 11 and 12.9-inch iPad Pro models.
The Copertina Magic Cases fit over the Magic Keyboard and iPad Pro combo, providing protection for both. The Copertina Magic Case adds minimal bulk to the iPad and Magic Keyboard…