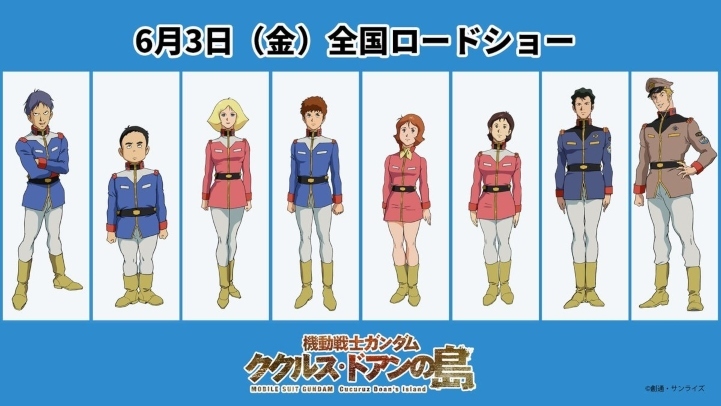 The official website of the Kidou Senshi Gundam: Cucuruz Doan no Shima (Mobile Suit Gundam: Cucuruz Doan's Island) announced on Thursday the main cast members and a synopsis. The anime is scheduled to open in Japanese theaters on June 3.


Synopsis

After withstanding the defensive battle at Jaburo, the Earth Federation Forces launched a major counterattack to capture Odessa, home of Zeon's Earth Attack Force. The White Base, with Amuro and his crew aboard, heads toward Belfast on a final supply run before the operation. While en route, the White Base is tasked with another mission—to clean up remaining enemy forces on an uninhabited island known as "The Island of No Return." Amuro and his crew embark on a search for the remaining spies, but instead find a group of children and a Zaku that shouldn't be there. After losing his Gundam in battle, Amuro encounters a man who calls himself Cucuruz Doan. Will Amuro be able to uncover the secrets of the island, find his Gundam again, and escape safely…? [Source: Official Website, translated]


Cast

Amuro Ray: Toru Furuya* (Mobile Suit Gundam)

Bright Noa: Ken Narita* (Mobile Suit Gundam Unicorn)

Mirai Yashima: Satomi Arai (Hisone to Maso-tan)

Sayla Mass: Megumi Han* (Mobile Suit Gundam: The Origin)

Kai Shiden: Toshio Furukawa* (Dragon Ball)

Hayato Kobayashi: Hideki Nakanishi* (Nanatsu no Taizai)

Fraw Bow: Misato Fukuen* (Kyokou Suiri)

Sleggar Law: Tomofumi Ikezoe (Francesca)


Returning cast members are marked with a * beside their names.


Yoshikazu Yasuhiko (Mobile Suit Gundam: The Origin) helms the movie at Sunrise, with Toshizou Nemoto (Macross Δ) penning the screenplay. Yasuhiko, Atsushi Tamura (Tenki no Ko animation director), and Tsukasa Kotobuki (City Hunter Movie: Shinjuku Private Eyes) are designing the characters. Takayuki Hattori (Kidou Senkan Nadesico) is composing the music.


Source: animate Times