The Alibaba Cloud x KrASIA Global Startup Accelerator Philippines Demo Day took place on February 8, with pitches by ten finalists that were evaluated by a panel of esteemed judges from Monk's Hill Ventures, Foxmont Capital Partners, and Gobi Partners.
Jacob Cue from Foxmont Capital Partners shared his excitement about hearing the startups' pitches. "It is a wonderful opportunity to learn more about promising startups from the Philippines and hear about their solutions." Jason Gaisano, country partner of Gobi Partners, shared the same excitement to welcome and support the selected finalists.
After reviewing the pitches from startups operating in a range of industries, including fintech, health tech, logistics, and more, the judges named Finantier as the Asia Star of the Philippines Demo Day. Founded in 2020, the firm generates profiles for users who were previously unable to access conventional financial services by aggregating user data from third-party apps. At the moment, Finantier is focusing on the Indonesian market and recently started expanding to the Philippines.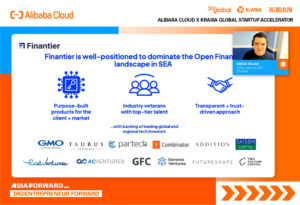 Here are the other startups that took part in the Demo Day:
Zennya Health provides users with on-demand healthcare and wellness services that include virtual consultations, checkups, vaccinations, mobile laboratory tests, and massage therapy.
Macro is a global, multilingual "smart community earning platform." The startup provides a comprehensive ecosystem to share information, earn income, facilitate social interaction, enable e-commerce, and money transfers.
ContentDash provides on-demand social media content for e-commerce businesses.
Airship is an end-to-end, ready-to-use software suite with all the necessary components for running a courier business.
Making.technology promotes modern educational strategies that combine learning-by-doing environments where students of various ages can apply inquiry-based approaches to grasp information related to science and technology.
Pic-A-Talk is an assistive mobile application for non-verbal children with special needs. The company provides a platform that helps children with communication disabilities express themselves and connect with the people around them through pictures.
HomeAssist.ph is an online real estate platform that provides transparency, efficiency, convenience, and standardized solutions for home buyers in the Philippines.
Etaily empowers e-commerce growth by offering end-to-end services such as technology, operations, and integrated brand building solutions.