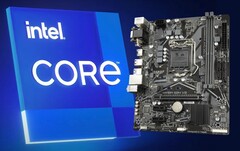 Intel has officially confirmed that the upcoming 11th Gen Rocket Lake-S desktop processors will not be supported by either the H410 or B460 chipsets. These chipsets utilize the LGA 1200 socket and are based on the 22nm manufacturing process. Gigabyte has provided a way for buyers of its H410M boards to select a revised variant that does support Rocket Lake chips.
Intel has updated a support page for the 400-series chipsets and future 11th Gen Rocket Lake-based systems. The relevant note, as spotted by VideoCardz, states "motherboards based on Intel B460 or H410 chipsets are not compatible with upcoming 11th Gen Intel Core processors." So, while those with boards based on H470, Q470, or Z490 chipsets simply need a BIOS update for Rocket Lake compatibility, the game appears to be up for the H410 and B460.
But before all the pitchforks are given out and torches are set alight, this is not Intel crushing the underdog with either an H410 or B460-based motherboard who had their heart set on a nifty Rocket Lake upgrade. The fact is that those chipsets, which don't have 802.11ax (Wi-Fi 6) support integrated either, are based on a 22nm node process. Intel's 11th Gen Rocket Lake-S desktop processors, which seem likely to be released in March, are based on 14nm technology.
Gigabyte has a workaround for this situation though, as highlighted by Tom's Hardware. It appears the company's H410M SH2 V2 and H410M DS2V V2 motherboards will support SKUs from both the Comet Lake and Rocket Lake families, thanks to them being fitted with H470 chipsets. The specsheets for the boards still list "H410 Express Chipset", but the main product pages make it very clear that Rocket Lake-compatible H470 chipsets are onboard.
Daniel R Deakin, 2021-02- 9 (Update: 2021-02- 9)