"In a world covered by endless water…" —

We don't know much about Mega Man movie, but it's definitely not the game I've wanted for decades.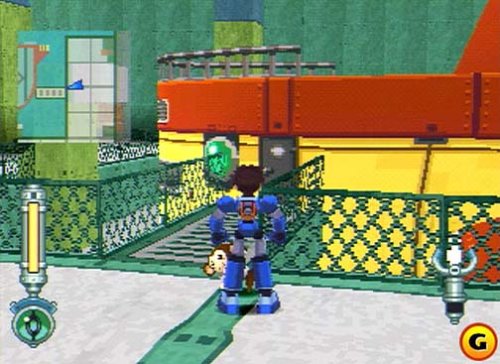 Netflix seems to be on a mission of late. The streaming brand has been on a near-rampage, sourcing Japanese content with nostalgic appeal and turning it into live-action content with the "Netflix original" stamp. There's always trepidation when hearing about an adaptation of an old favorite, but the latest Netflix adaptation I heard about stings more than usual. Not because I'm outraged by casting choices, character omissions, or use of heartless CGI—we haven't gotten that far yet. It's because I've been waiting for a different addition to the Mega Man franchise for nearly (gulp) 22 years.
When I hear the phrase "new Mega Man," I presume it's going to be the announcement of a new video game, and deep down, I always hope that announcement is Mega Man Legends 3. Decades later, I and many other fans are still holding out for a follow-up to the two PlayStation games (they were eventually ported to a few other platforms, including Windows) that challenged, entertained, and mesmerized me starting in 1998.
Since Mega Man Legends 2 came out in 2000, Capcom has offered me small return trips to the Mega Man universe, including 2001's Mega Man Battle Network series and 2018's Mega Man 11. But none continued—or, better yet, completed—the detailed, mysterious story of the Legends games, whose lore is loaded with themes of myriad familial bonds, independence, ingenuity, and coming of age.
From busting massive balloons in mini-games to the unforgettable underwater ruins whose puzzles and confusing tunnels remain one of the most challenging virtual experiences of my life, the Legends games were genuinely fun to play. By introducing 3D into the franchise, they were fun to watch, too. So much so that I also watched everyone in my household beat them.
But it's not just that I want to play more Mega Man Legends (though I do). It's not just that I want to know what a 2020s-era Legends would even look like (though I don't doubt it would try some fun new visual tricks in 4K resolution). What I'm more hungry for is a conclusion to the story and closure for Mega Man Volnutt, who was slowly learning of his origins throughout the first two games. I'm still curious about where he came from, what he actually is, and if he'll ever get the full memories of Mega Man Trigger back. I wonder how the relationships, like Mega Man and Roll's or even their allies in the Bonne family, might develop under these revelations.