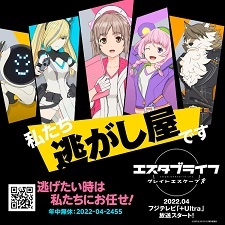 The official website of Gorou Taniguchi's (Code Geass, Back Arrow) mixed-media project announced the main cast, a teaser visual (pictured), and a promotional video for the projects television anime Estab-Life: Great Escape on Thursday. The series is scheduled to premiere in April 2022 on Fuji TV's +Ultra programming block and other channels. Crunchyroll will stream the anime outside of Asia.


Cast

Equa: Tomomi Mineuchi (Dolls' Frontline)

Ferres: Rie Takahashi (Listeners)

Martese: Maria Naganawa (Azur Lane)

Alga: Show Hayami (Honzuki no Gekokujou: Shisho ni Naru Tame ni wa Shudan wo Erandeiraremasen)

Ulla: Shinichiro Miki (Gintama)


Hiroyuki Hashimoto (Youkoso Jitsuryoku Shijou Shugi no Kyoushitsu e (TV)) is helming the series at Polygon Pictures, with Shoji Gatoh (Full Metal Panic!) penning the screenplay. Yuusuke Kozaki (Bubuki Buranki) is designing the characters and Yoshiaki Fujisawa (Mushoku Tensei: Isekai Ittara Honki Dasu) is composing the music.


The Estab-Life mixed-media project will also be receiving a movie subtitled Revengers Road directed by Gorou Taniguchi. Square Enix will be producing a smartphone game titled Estab-Life: Unity Memories for the project.


Teaser PV


Source: Comic Natalie