Environment Minister Eamon Ryan has confirmed that schools will reopen as planned next week. 
On New Year's Day the state confirmed the highest number of COVID cases in the history of the pandemic, leading to speculation that teaching might go back online. 
However, speaking to On The Record the Green Party leader denied this was the case: 
"I think we have to see our schools reopen," Minister Ryan said. 
"I think for the health and wellbeing and development of our children. And I would say colleges, secondary and primary [schools] and childcare right the way through – those institutions have shown real ability to manage through the difficult times. 
"There's no example I think internationally where people are not contemplating opening schools. 
"The incidence among the young primary school age cohort has dropped significantly and most of those cases weren't necessarily coming from school – a lot of them actually came from the midterm break through parents and households to children. 
"So it wasn't necessarily schools that were the centre of the outbreak. 
"So yes I think it's really important."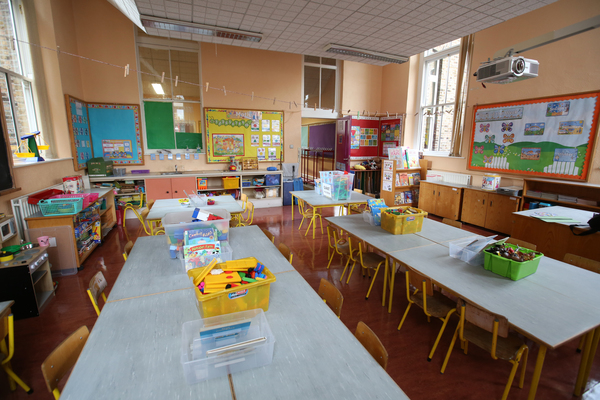 Pictured a Junior Infants classroom ready for children at Gardiner Street Primary School, Dublin. Photo: Sam Boal/Rollingnews.ie
Contact tracing
The Government has long maintained that few cases of COVID-19 are caused by mixing in Irish schools.
However, it is an assertion that has been consistently questioned by opposition TDs and earlier this weekend People Before Profit's Bríd Smith told Newstalk it was time for the Department of Education to reintroduce contact tracing in schools: 
"The state has failed the whole education system by removing contact tracing from schools," Deputy Smith claimed. 
"They've left it to the teachers themselves, to the children themselves and to parents to inform each other about the level of infection and that's really not good enough.
"We know now, and there's no doubt about it, that our schools were not safe. 
"That they haven't been safe and if they keep repeating it and saying that it's true doesn't make it happen."
Main image: School children in a classroom. Picture by: Peter Endig/dpa-Zentralbild/dpa.