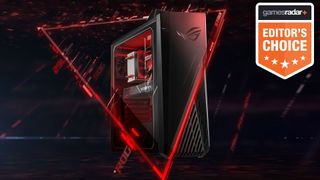 (Image credit: ASUS)

Cheap gaming PC deals present one of the best potential purchases in the gaming tech world. Whether you're looking to upgrade from your existing setup or make your first moves into the world of PC gaming, then there's no better starting point than one of these offers. There's a particular focus on pre-built PCs at the moment – particularly given the scarcity of the brand new graphics card and processors we are seeing – with plenty of ready-to-run machines from retailers and builders set to make excellent but affordable gaming PCs. You can avoid the additional stress of labor and research required to build your own by going with a pre-made computer – this usually means you'll pay a bit more for the service of a build, but then you often get a warranty too for peace of mind.
Cheap gaming PC retailers:

US: Best Buy | Dell | Amazon | Walmart | Newegg | B&H Photo | Adorama

UK: Amazon UK | Currys | Overclockers UK | LaptopsDirect | Argos
With a whole host of new graphics cards launching this year, we are seeing some still-excellent if slightly older machines get their prices discounted, and also a range of new PCs built with those new graphics cards among the cheap gaming PC deals being your best option to get one this year. Whatever you're into though, we're compiling deals on everything from budget-friendly starters to future-proof investments.
Typically, you can't find even an entry-level gaming PC for the same price as a PS5 or Xbox Series X, but the best deals are bridging that gap. Of course, if you're looking for something to rival the hot-in-demand RTX 3080 and RTX 3090, or maybe the AMD RX 6800, we've also seen a few deals on high-end rigs that are going for less than usual.
With the release of the aforementioned 30-series graphics cards, and AMD's new Big Navi GPUs to throw into the mix too, we might see the beginning of some truly historically low prices on pre-built machines that have got the 'older' cards and components in them. Machines with 2070s or 2080s, or even this year's 5600XT graphics cards, might offer the best value gaming PCs given the quality they still offer.
Another point to factor in this year will be the sheer number of folks shifting to more home-working environments. Retailers and PC builders will be acutely aware of this and as a result will try and offer cost-effective ways that cover shoppers for both work and play in one fancy solution, enabling you to have one do-it-all machine, all without having to spend thousands and thousands. 
We'll be updating this page regularly, so you might even find one of the best gaming PCs – like the ASUS ROG GA15 that I use in my setup – here eventually too. And remember: the one true beauty about gaming PCs is that you can upgrade them down the line meaning compromises are easier to make, and what you see on the specs list isn't really the true limit of a PC's potential.
And don't forget: give the best antivirus software a look just to make sure your brand new gaming PC is well protected. And if you prefer your gaming machine portable, then fear not, as there are plenty of cheap gaming laptop deals and Prime Day laptop deals too.
Cheap gaming PC deals under $1000 – US
Cheap gaming PC deals over $1,000 – US
It's not just our American readers who can get some cool cheap gaming PC deals, as there are some fairly decent ones cropping up in the UK too. 
Cheap gaming PC deals under £1,000 – UK
Cheap gaming PC deals over £1,000 – UK
Not seen anything you fancy? Don't worry – you can always check our full guide to the best gaming PCs going. Need a screen upgrade too? One of the best gaming monitors will prove the best companion to your new PC.
If you prefer your gaming machines portable then head over to our best gaming laptops guide. It's crammed with best-in-class machines at the lowest prices.